Buzzer MA4401AW100C
Parts shall be measured under one condition (temperature: 5~35 ℃, humidity: 45% ~ 85% R.H., atmospheric pressure: 860 ~ 1060hPa), unless standard conditions (temperature: 25±3 ℃, humidity: 60±10%R.H. atmospheric pressure: 860 ~ 1060hPa) are adjusted.
. Technical Parameter
Measuring condition
Part shall be measured under a condition (Temperature: 5~35 ℃, Humidity: 45% ~ 85% r. h., Atmospheric pressure: 860 ~ 1060hpa) without the standard
condition (Temperature: 25±3 ℃, Humidity: 60±10% r. h. Atmospheric pressure: 860 ~ 1060hPa) is regulated to measure.
1

Rated Voltage (rated voltage)

10 VDC

2

Operating Voltage (voltage range)

8 ~ 15VDC

3

Rated Current (current consumption)

Peak Max.40mA ,at 10VDC
Static Max.15mA,at 10VDC

4

Sound Output at 100cm (Output Sound Pressure)

Min. 65dB,at 10VDC; Type:73dB

5

Resonant Frequency (main frequency)

600Hz 20%

6

Tone (tone)

Td: sound Maximum Intensity Duration, 180ms
Tr: Rise Time, 25ms
Tl: Fall Time, 25ms
One cycle: sound 0.23S, stop 0.18S, sound 0.23S, stop 16S

7

Outage Duration (power failure lasts)

5 Minutes at 1F10V capacitor (capacitor charge to be saturated during power failure)

8

Cutoff Voltage (cut-off voltage)

4.5VDC 15%

9

Operating Temperature (operating temperature)

-20 ℃ ~ +55 ℃

10

Store Temperature (storage temperature)

-30 ℃ ~ +70 ℃

11

Net Weight (net weight)

Approx 23g

12

RoHS

Yes
2. Dimensions Unit: mm * Tolerance: ± 0.5mm Except Specified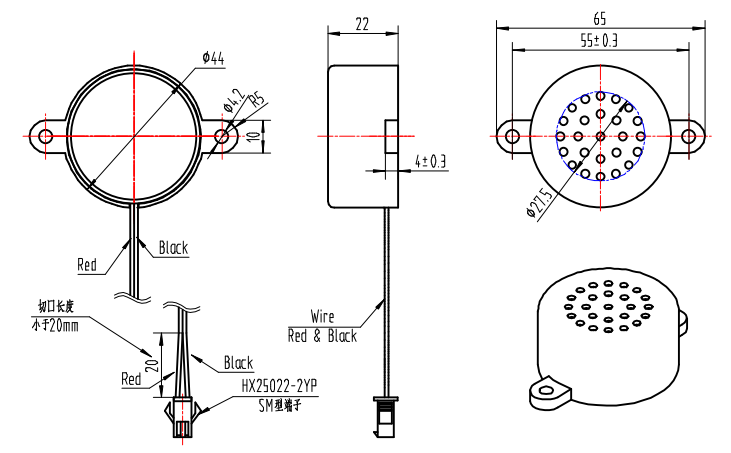 * Housing Material: Black ABS or PPO
* Wire:UL1007 AWG24 red and black parallel length 100±5mm does not include terminal
3. Electrical And Acoustical Measuring Condition
Recommended Setting
4.Reliability Test
After any following tests part shall meet specifications without any degradation in
appearance and performance except SPL. SPL shall not deviate more than -10 dB
from the initial value
4.1 Ordinary Temperature Life Test
The part shall be subjected to 96 hours at 25±10 ℃. Input rated voltage
Resonant frequency, 1/2 duty Square wave.
4.2 High Temperature Test
The part shall be capable of with standing a storage temperature of +70 ℃ for 96 hours.
4.3 Low Temperature Test
The part shall be capable of with standing a storage temperature of -30 ℃ for 96 hours.
4.4 Humidity Test
Temperature:+40 ℃ 3 ℃ Relative Humidity:90% ~ 95% Duration: 48 hours
and exposure to room temperature for 6 hours
4.5 Temperature Shock Test
Temperature:70 ℃/1 hour→ 25 ℃/3 hour→ -30 ℃/1 hour→ 25 ℃/3hours (1cycle)
Total cycle: 10 cycles
4.6 Drop Test
Standard Packaging From 75cm(Drop on hard wood or board of 5cm thick,
three sides, six plain.)
4.7 Vibration Test
Vibration:1000cycles /min. Amplitude:1.5mm, Duration: 1 hour in each 3 axes
Note:
As this product is not protected from foreign material entering, please make sure that any foreign
materials (e.g. magnetic powder, washing solvent, flux, corrosive gas) do not enter this product in your
production processes. the functional degradation (e.g. spl down) may occur if foreign material enter it.
5.Packing
packing requirements

foam box, 40pcs a pile; 10 piles/box; 400 pcs/box
outer box material number: F6-X-009; Outer box size 58*31.5 * 34cm
foam box/cover material number: F6-P-016 / F6-G-026

shipping requirements

inner box:

outer box: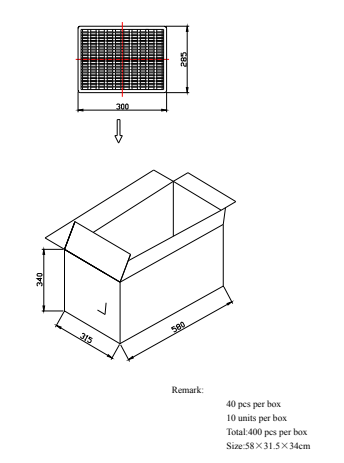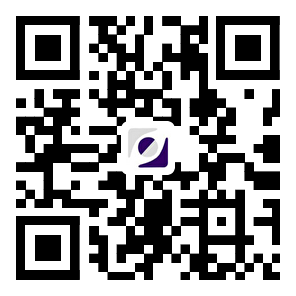 Mobile two-dimensional code
Contact Us

0086-519-83822009
Mobile Phone: +86-18706122270
Fax: 0519-88739926
Mailbox: xrm@czfhd.com
Address: Zhenglu Town, Tianning District, Changzhou City, Jiangsu Province
Copyright©2023 All Rights Reserved of Changzhou FHD electronics Co.,Ltd.